Pig Dipper 6-26 (Angry Birds Space)
Comments

0
Pig Dipper 6-26 (Angry Birds Space)
Episode
Level Number
156
Birds Sequence
No.of Pigs
x3 x1 x2
x1
3-star Score
: 102,000 points
Previous
Next
Pig Dipper 6-25
Pig Dipper 6-27
Pig Dipper 6-26 is the 26th level in Pig Dipper.The objective of level 6-26 is to use the birds to eliminate all the pigs. Get at least 102,000 points for 3 stars.
Difficulty
Getting 3 stars is considerably hard.
Strategy
fling the orange bird down so he comes up beneath the bottom platform, ideally pushing the explosive asteroid into the ship. Now fling the bomb bird straight ahead so he lands by the topmost pig.
Trivia
This is the first level in Pig Dipper that has the fiery asteroid. If the fiery asteroid touches water, it's useless.
Walkthrough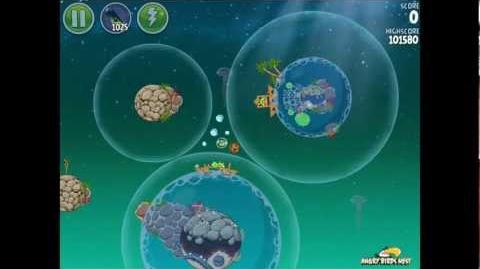 Angry Birds Space
Levels
Eggsteroids
Episode Key : Blue = Pig Bang; Cyan = Cold Cuts and Fry Me to the Moon; Pink = Utopia; Salmon = Red Planet; Lightgreen = Pig Dipper; Purple = Cosmic Crystals; RoyalBlue = Beak Impact