Pig Dipper 6-28 (Angry Birds Space)
Episode
Level Number
158
Birds Sequence
No. of Pigs
: x3 : x2 : x1
3-star Score
: 100,000 points
Previous
Next
Pig Dipper 6-27
Pig Dipper 6-29
Pig Dipper 6-28 is the 28th level in Pig Dipper.The objective of level 6-28 is to use the birds to eliminate all the pigs. Get at least 100,000 points for 3 stars.
Difficulty
Getting 3 stars is extremely hard.
Strategy
Send the Ice Bird up and over the top left planet so he comes down in the water between the right palm trees. The water will push him back up into the stone base of the floating pig island. Send the Blue Birds on a similar trajectory, splitting above the pile of debris. The bottom blue bird will enter the water and take out the TNT as well.
Walkthrough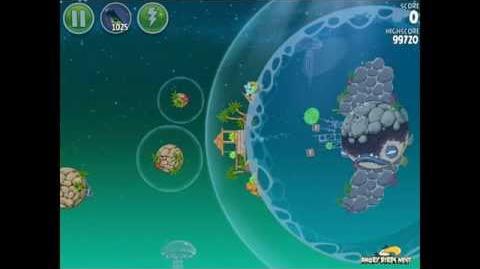 Angry Birds Space
Levels
Eggsteroids
Episode Key : Blue = Pig Bang; Cyan = Cold Cuts and Fry Me to the Moon; Pink = Utopia; Salmon = Red Planet; Lightgreen = Pig Dipper; Purple = Cosmic Crystals; RoyalBlue = Beak Impact
Ad blocker interference detected!
Wikia is a free-to-use site that makes money from advertising. We have a modified experience for viewers using ad blockers

Wikia is not accessible if you've made further modifications. Remove the custom ad blocker rule(s) and the page will load as expected.