Pig Dipper 6-29 (Angry Birds Space)
Episode
Level Number
159
Birds Sequence
No. of Pigs
: x4 : x2
: x1
: x1
3-star Score
: 148,000 points
Previous
Next
Pig Dipper 6-28
Pig Dipper 6-30
Pig Dipper 6-29 is the 29th level in Pig Dipper.The objective of level 6-29 is to use the birds to eliminate all the pigs. Get at least 148,000 points for 3 stars.
Difficulty
The Centered Fat Pig is tricky if you don't cut the ropes.
You must beware the fiery asteroid. Do not let it touches the water. It's a hard work.
Getting 3 stars is not easy.
Strategy
Send the Lazer bird south, redirect to cut all four ropes holding the Fat Pig. Use two Red Birds to Push the fiery asteroids onto the debris below.
Walkthrough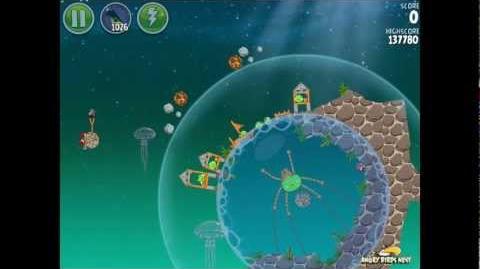 Angry Birds Space
Levels
Eggsteroids
Episode Key : Blue = Pig Bang; Cyan = Cold Cuts and Fry Me to the Moon; Pink = Utopia; Salmon = Red Planet; Lightgreen = Pig Dipper; Purple = Cosmic Crystals; RoyalBlue = Beak Impact