Pig Dipper 6-7 (Angry Birds Space)
Episode
Level Number
137
Birds Sequence
No. of Pigs
: x4 : x5
3-star Score
: 92,000 points
Previous
Next
Pig Dipper 6-6
Pig Dipper 6-8
Pig Dipper 6-7 is the 7th level in Pig Dipper and the 137th level in Angry Birds Space overall.
Difficulty
3-Stars score is tricky for some, but this level is not hard.
Strategy
Wreck the tallest tower with an Orange bird, letting it expand manually to throw blocks in all directions. Cut the ropes holding the rockets underwater, allowing them to speed to the surface.
Walkthrough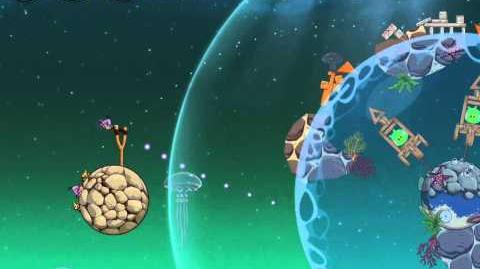 Angry Birds Space
Levels
Eggsteroids
Episode Key : Blue = Pig Bang; Cyan = Cold Cuts and Fry Me to the Moon; Pink = Utopia; Salmon = Red Planet; Lightgreen = Pig Dipper; Purple = Cosmic Crystals; RoyalBlue = Beak Impact