Pig Prison

Zone
Cobalt Plateaus
Type
Wave Battle
Wave 1
1x
Wave 2
1x
Wave 3
2x


1x


1x 30px

Main Prize
 :3
Progression
Previous
Next
South Beach - 2
Cobalt Plateaus - 1
Pig Prison is the first level of Cobalt Plateaus in Angry Birds Epic. It is a wave level. When this level is finished, the player may spin for 3 Stone.
Pig Guard and Guard Captain are introduced here. Pig Guards attack every turn and will drain part of the birds's rage chilli while Guard Captain is the first pig with the Ironclad ability, which makes him take only half the damage if it is less than a certain value. Guard Captain's specialty is to give all allies a shield that will reduce the amount of damage received. This level is a tutorial for wave battles, which teaches you how to win wave battles without losing much HP from your birds. This is also the only level where you can fight an imprisoned Chuck, who will defeat all the other pigs if the HP reaches 0.
Cutscenes
Chuck has been freed by Red. Prince Porky is very angry because of them but he still stands there to see how strong they are.
Pigs
Before Unlocking Chuck
Unless stated otherwise, there is only 1 of each type of enemy. Each enemy's stats are shown below per wave.
Wave 1
Wave 2
Wave 3
You have to engage 2 Pig Guards, 1 Guard Captain and 1 Imprisoned Chuck..
---
---
After Unlocking Chuck
In Waves 1 and 2, when you level up, more pigs are added (Example: Bird Catcher is added, Rogue is added, Stick Pig is added, Wealthy Rogue is added). Wave 3 is even more different than usual. You will have the same pigs as in the third Wave before unlocking Chuck, but without the cage. Sometimes, one Pig Guard will be shown, and two Stick Pigs will be added, or on rare occasion, no Ironclad Pig will be shown, leaving only the Stick Pigs, Pig Guard, and Rogue. There's more - a Wealthy Rogue will be popping up in which wave on rare occasion.
Strategy
Before Unlocking Chuck
Attack one pig in Waves 1 and 2. Only destroy the cage in wave 3 to free Chuck. Chuck will kill all pigs.
After Unlocking Chuck
Same formula, but some pigs will be added or removed in Waves 1, 2 and 3 and Wave 3 will not have the cage. So you need to defeat those pigs yourself in Wave 3.
Gallery
Before Chuck is freed
Walkthroughs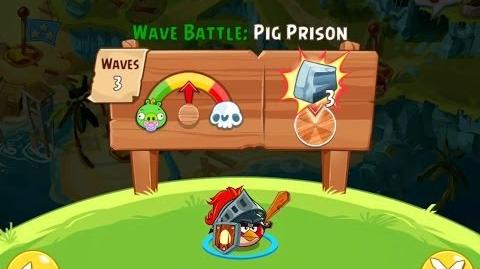 Ad blocker interference detected!
Wikia is a free-to-use site that makes money from advertising. We have a modified experience for viewers using ad blockers

Wikia is not accessible if you've made further modifications. Remove the custom ad blocker rule(s) and the page will load as expected.