Plush Toys
Talk

66
2,665pages on
this wiki
Angry Birds Plush Toys are stuffed animals of the characters. They are available in 4 sizes (5" , 8" , 12" , 16"), or as clip-on hangers (3"). There are currently 75 different plushies, some of which include sounds, while others don't. Angry Birds plush toys can be found at most stores that sell toys, such as Toys"R"Us, Wal-Mart and GAME.co.uk. Angry Birds plush toys are also available in online stores, such as the Angry Birds Online Shop, ToyWiz, eBay and Amazon.com.
The Atomic Bird, Hamesome Pig, Mauro, Mighty Dragon, Space Eagle, Boy and Girl Eggs, the Space Egg, the Freckled Pig, Zombie Pigs, the Developer Birds, Millennium Falcon, the Joke Birds and the characters from King Pig  do not have a plush yet.
The Birds
Space Birds
Rio Birds
Star Wars Birds and Pigs
Stella Birds
Halloween Birds
Christmas Birds
Winter Birds
Easter Birds
Valentine Birds
St. Patrick's Birds
Other Birds
Bad Piggies
Space pigs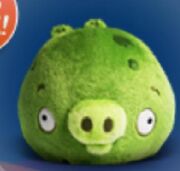 Pigs with Hats
Other Pigs
Trivia
Black Bird and Boomerang Bird are the only plushes to go through design changes.

The old version of the Black Bird plush toy had a white spot on its forehead, as it does in the games. The new version doesn't have a white spot, which was released in April 2011 with the updated tags.
The old 5" version of the Boomerang Bird has an open beak, while larger sizes do not. The new version has the new design, without the open beak and ring.

The first release of the 5" Boomerang Bird, White Bird, most pigs (except Foreman Pig, Chef Pig and Cowboy Pig) and inflated Orange Bird are the only plushies with open mouths.
The Mighty Eagle, Marmoset, Hockey Bird and Nerdy Birdy are the only plushies to be released without any others along with it.
The Hockey Bird plush is not available in any websites or shops, but it can be found here.
The Corporal Pig is the only pig plush that is beaten up. However, in parts of Asia there comes one where Corporal Pig is grinning yet has a crack on his helmet.
The Mighty Eagle is the most expensive plush, probably because it only comes in one size, or it is very big.
There has been a leaked photo of the R2-D2 plush and it is likely to come out.