Power Ups Unviersity is a new feature in Angry Birds. Here, power ups can be tested out for free. To open it, go to Shop (the shopping cart button) > Power-Up Bundle > Stella button (at the bottom right). Complete each level will give you a star. Collect all 4 stars to get a huge Power-Up reward!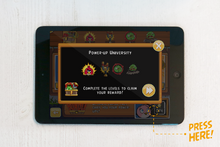 Levels
Trivia
Angry Birds Friends has a feature similar to it on the mobile version, but it is named as Power-Up Practice instead.
Ad blocker interference detected!
Wikia is a free-to-use site that makes money from advertising. We have a modified experience for viewers using ad blockers

Wikia is not accessible if you've made further modifications. Remove the custom ad blocker rule(s) and the page will load as expected.