Power-Ups University Level 1 is the 1st level of the Power-Ups University. This level is a debut of the Power Potion power-up. Unlike other levels, after using the first Power Potion for your first bird, you can use it again for your second bird.
Strategy
Activate the Power Potion power-up and shoot the Red Bird straight to the stone structure. Then, activate the Power Potion power-up again for the second Red Bird and continue shooting him to the remaining parts. If all of the pigs are not being popped yet, continue activating the Power Potion and shooting your remaining birds.
Difficulty
4. Medium
Versions
At the old version, when Power Potions are still Super Seeds, the level was much easier and more than that, Super Seeds make every birds in the level bigger and this make the level extremely easy.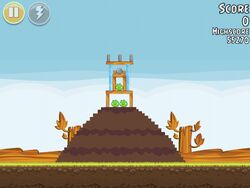 Ad blocker interference detected!
Wikia is a free-to-use site that makes money from advertising. We have a modified experience for viewers using ad blockers

Wikia is not accessible if you've made further modifications. Remove the custom ad blocker rule(s) and the page will load as expected.