Power-Ups University Level 2 is the second level of the Power-Ups University. This level is a debut of the Sling King power-up. Using this you can fling your birds in a distance far far away.
Strategy
Tap the unlimited Sling King power-up as the level tutorial shows. Then, shoot him to the structure which is having a pig in it. If you miss, well, you just need to continue flinging your remaining birds.
Difficulty
2. Easy
Versions
In the old version, the two thin wooden blocks at the bottom are just one square stone block at the middle, makes it easier to fall and get higher score. Also, in the old version, there is just one "mountain" while the new version has two more smaller ones.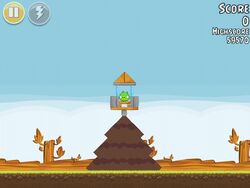 Walkthroughs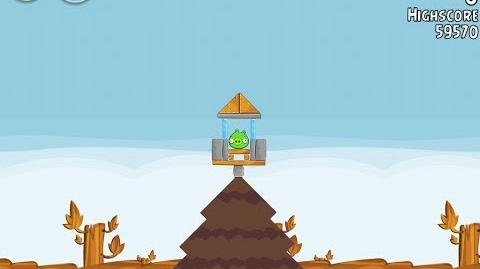 Ad blocker interference detected!
Wikia is a free-to-use site that makes money from advertising. We have a modified experience for viewers using ad blockers

Wikia is not accessible if you've made further modifications. Remove the custom ad blocker rule(s) and the page will load as expected.