Red Planet 5-11 (Angry Birds Space)
Episode
Level Number
111
Birds Sequence
No. of Pigs
: x3 : x2
3-star Score
: 46,000 points
Previous
Next
Red Planet 5-10
Red Planet 5-12
Red Planet 5-11 is the 11th level in Red Planet and the 111th level in Angry Birds Space overall.
Difficulty
This level is easy, but the Corporal Pigs can be tricky.
Strategy
There is only way for three stars but strategy is quite easy. Launch Blue Bird straight ahead, splitting very early. Wait a few seconds for the Corporal pigs to stop moving up and down.
Walkthrough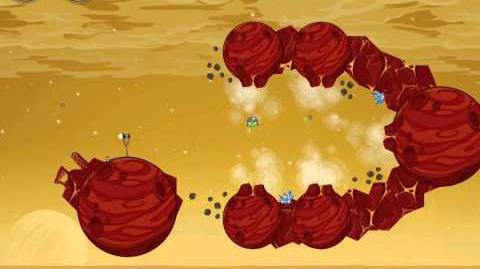 Angry Birds Space
Levels
Eggsteroids
Episode Key : Blue = Pig Bang; Cyan = Cold Cuts and Fry Me to the Moon; Pink = Utopia; Salmon = Red Planet; Lightgreen = Pig Dipper; Purple = Cosmic Crystals; RoyalBlue = Beak Impact