Red Planet 5-19 (Angry Birds Space)
Comments

0
Red Planet 5-19 (Angry Birds Space)
Episode
Level Number
119
Birds Sequence
No.of Pigs
x10
3-star Score
: 131,000 points
Previous
Next
Red Planet 5-18
Red Planet 5-20
Red Planet 5-19 is the nineteenth level in Red Planet and one hundred and nineteenth level in Angry Birds Space overall. This level is possibly one of the funniest level in Red Planet.
Difficulty
To make 3 stars is quite hard and need a bit luck to kill all the pigs.
Strategy
For Red Planet 5-19, launch Orange towards the bottom pile of blocks, pushing that debris onto the steam geyser. Then quickly launch the second bird towards the top pile of blocks for maximum damage and points.[1]
Trivia
This is the one of the three levels in Red Planet that have only Orange Bird in game. (Others are 5-9 and 5-24) And one of the five levels in Red Planet that have Orange Bird. (Others are 5-9, 5-24, 5-29 and 5-30)
Walkthrough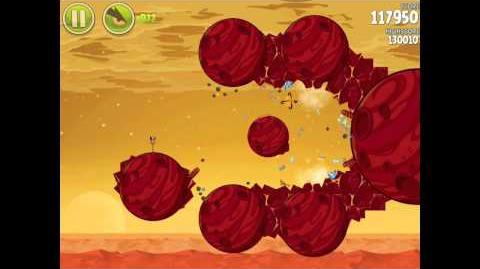 References
Angry Birds Space
Levels
Eggsteroids
Episode Key : Blue = Pig Bang; Cyan = Cold Cuts and Fry Me to the Moon; Pink = Utopia; Salmon = Red Planet; Lightgreen = Pig Dipper; Purple = Cosmic Crystals; RoyalBlue = Beak Impact