Red Planet 5-1 (Angry Birds Space)
Episode
Level Number
101
Birds Sequence
No. of Pigs
: x3
3-star Score
: 41,000 points
Previous
Next
Utopia 4-30
Red Planet 5-2
Red Planet 5-1 is the first level in Red Planet.
New things
Steam geyser: Release steam to push out everythings.
Difficulty
Very easy to win but a bit tricky for three stars.
Strategy
Launch the first bird directly to the steam geyser and the steam will push the bird to the base of the ice tower.
Walkthrough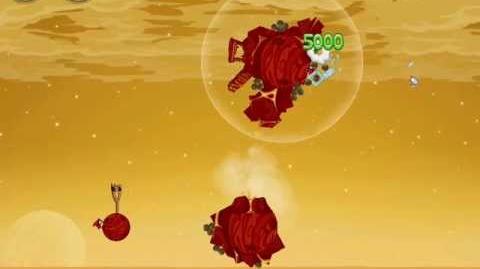 Angry Birds Space
Levels
Eggsteroids
Episode Key : Blue = Pig Bang; Cyan = Cold Cuts and Fry Me to the Moon; Pink = Utopia; Salmon = Red Planet; Lightgreen = Pig Dipper; Purple = Cosmic Crystals; RoyalBlue = Beak Impact