Red Planet 5-29 (Angry Birds Space)
Comments

0
Red Planet 5-29 (Angry Birds Space)
Episode
Level Number
129
Birds Sequence
No.of Pigs
x9 x1
3-star Score
: 139,000 points
Previous
Next
Red Planet 5-28
Red Planet 5-30
Red Planet 5-29 is the 29th level in Red Planet.
Difficulty
It's hard without good strategy.
3 stars is considered hard for some.
Strategy
Launch Orange into the northern hemisphere. The steam geyser should send the bird towards the TNT box. The explosion should send debris flying and destroy most of the floating pigs. Use Blue Bird to finish off the remaining pigs.
Walkthrough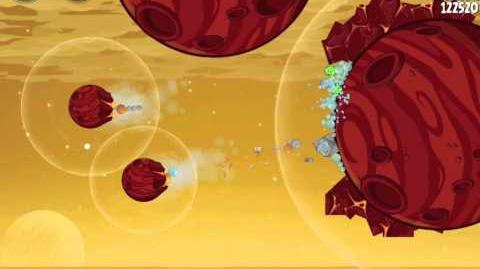 Angry Birds Space
Levels
Eggsteroids
Episode Key : Blue = Pig Bang; Cyan = Cold Cuts and Fry Me to the Moon; Pink = Utopia; Salmon = Red Planet; Lightgreen = Pig Dipper; Purple = Cosmic Crystals; RoyalBlue = Beak Impact