Need Pictures!

This article or section is almost perfect! But it needs some pictures or photos related to the article or section. You can help Wiki by uploading picture here!
Rovio Entertainment (casually known as
Rovio
) is a Finnish game developer founded in 2003, when it was named
Relude
before 2005. From 2005 to July 2011, they were known as
Rovio Mobile
. They have developed a worldwide popular hit iOS game,
Angry Birds
, in 2009.
Angry Birds Games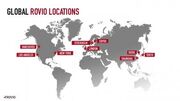 Angry Birds Rio and Angry Birds Rio HD (release March 22, 2011)
Angry Birds Rio Free and Angry Birds Rio Free HD (now deleted because the full version is free) (release 2011)
Angry Birds (Google Chrome) (release May 2011)
Angry Birds Google+ (release May 2011)
Angry Birds Go! (release December 11 2013)
Angry Birds Epic (release March 17, 2014 for AUS/NZ, June 12, 2014 worldwide)
Angry Birds Friends (mobile and online, release February 2012 for online and May 2, 2013 for mobile)
Angry Birds Space (release March 22, 2012)
Angry Birds Star Wars (release November 8, 2012)
Angry Birds Star Wars II (release September 19, 2013)
Angry Birds Stella (release September 4 2014)
Angry Birds Transformers (released waiting in October 15, 2014)
Angry Birds Fight!
Angry Birds Under Pigstruction
Bad Piggies (Spin-Off) (release September 27 2011)
Other Games
This is a list of all other games made by Rovio.
Amazing Alex
Bounce Evolution
Bounce Tales
Bounce Touch
Bounce Boing Voyage
Burger Rush
Burnout (Java)
Collapse Chaos
Cyber Blood
Darkest Fear
Darkest Fear 2: Grim Oak
Darkest Fear 3: Nightmare
Desert Sniper
Dragon & Jade
Formula GP Racing
Gem Drop
Marine Sniper
Mole War
Need for Speed: Carbon
Paid to Kill
Paper Planes
Patron Angel
Playman Winter Games
Shopping Madness
Space Impact: Meteor Shield
Star Marine
Sumea Ski Jump
Swat Elite Troops
US Marine Corps Scout Sniper
The Croods (an app based off the movie of the same name from DreamWorks Animation)
Totomi
War Diary Burma
War Diary Crusader
War Diary Torpedo
Wolfmoon
X-Factor 2008
Rovio Stars
Icebreaker: A Viking Voyage (No longer made by Rovio)
Tiny Thief
Juice Cubes
Word Monsters (No longer made by Rovio)
Plunder Pirates
Jolly Jam
Sky Punks
Website
YouTube Channel