Rovio Entertainment
(casually known as
Rovio
) is a Finnish game developer founded in 2003, when it was named
Relude
before 2005. From 2005 to July 2011, they were known as
Rovio Mobile
. They have developed a worldwide popular hit iOS game,
Angry Birds
, in 2009. Sony Pictures acquired Rovio (among with the other animation studios) in 2013.
Angry Birds Games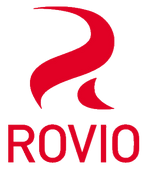 Other Games
This is a list of all other games made by Rovio.
* indicates no longer available
Amazing Alex
Battle Bay
Bounce Evolution
Bounce Tales
Bounce Touch
Bounce Boing Voyage
Burger Rush
Burnout (Java)
Collapse Chaos
Cyber Blood
Darkest Fear
Darkest Fear 2: Grim Oak
Darkest Fear 3: Nightmare
Desert Sniper
Dragon & Jade
Formula GP Racing
Gem Drop
Marine Sniper
Mole War
Need for Speed: Carbon (Java mobile)
Nibblers
Paid to Kill
Paper Planes
Patron Angel
Playman Winter Games
Shopping Madness
Space Impact: Meteor Shield
Star Marine
Sumea Ski Jump
Swat Elite Troops
US Marine Corps Scout Sniper
The Croods*
Totomi
War Diary Burma
War Diary Crusader
War Diary Torpedo
Wolfmoon
X-Factor 2008
Rovio Stars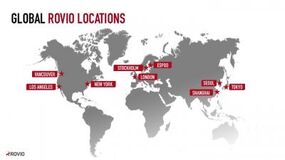 Rovio Stars is Rovio's publishing arm, where they help other game studios with developing and publishing their video games. The Rovio stars titles are:
Once again, * means no longer published
External Links
Ad blocker interference detected!
Wikia is a free-to-use site that makes money from advertising. We have a modified experience for viewers using ad blockers

Wikia is not accessible if you've made further modifications. Remove the custom ad blocker rule(s) and the page will load as expected.