Sakura Ninja
Info
Release Date:
March 8th, 2012
Levels:
12
Episode No.:
Not numbered
Previous Episode:
Non-sequential
Next Episode:
Non-sequential
Game(s):
Angry Birds Fuji TV
Sakura Ninja (Cherry Blossom Ninja in English) is an exclusive episode to the Angry Birds Fuji TV Web game. The game consists of 12 levels and utilizes the backgrounds and themes from Angry Birds Seasons: Cherry Blossom. One major difference in this episode from Cherry Blossom is that the playable birds are in costume. The Birds wear the historical Japanese outfits seen in the promotional artwork for Cherry Blossom.
Birds and their costume themes

Pigs
Pigs in Sakura Ninja are dressed with Japanese headbands as they are in Cherry Blossom. In the first level, the small pig is seen wearing a helmet that appears to be made of a food item which looks like a rice ball.
Note: The samurai warlord helmet is not used in either of the two games, but does appear in the sprite sheet and is clearly meant for a pig, as there is a snout on the helmet's nosepiece, so it has been added here to the King Pig for completeness.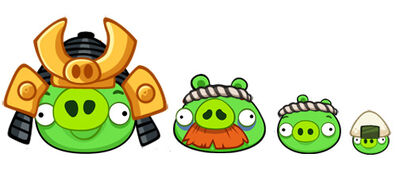 Fuji TV

The game includes a level where the pig fortress is modeled after the Fuji TV headquarters in Odaiba, Minato, Tokyo, Japan. The level includes the Fuji TV mascot, Rafukun, a blue dog.

Trivia
Soldier Orange Bird is unplayable, but he is seen on most wallpapers.
Poached Eggs comes with Sakura Ninja
Stella is the only bird that didn't appear in this game.
Historical Firsts

This is the first time an episode has been a sequel of a previous episode and/or used the same backgrounds, etc.
This is the first time in any Angry Bird game where the playable birds in the game have been in costume.
All the birds first appear in their Google Chrome designs but all their corpse, launch, eye closed, and mouth open designs are from Angry Birds Classic and Seasons.
Gameplay Gallery