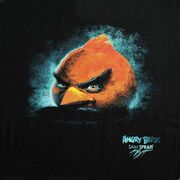 Sam Spratt is a painter who painted realistic pictures of Angry Birds.
Pig in the Dark
Sam Spratt first painted a picture called "Pig in the dark" just for fun.
Working with Rovio
The painting "Pig in the dark" went viral on the internet very soon. Then, out of the blue, Rovio contacted Sam and asked him to paint some of the main Angry Birds characters.  The only limitations was that he couldn't paint them with wings or feet, like he had planned.
Trivia
Sam Spratt also did the cover art of the January 2013 issue of Gameinformer, a popular gaming magazine.
Gallery
Ad blocker interference detected!
Wikia is a free-to-use site that makes money from advertising. We have a modified experience for viewers using ad blockers

Wikia is not accessible if you've made further modifications. Remove the custom ad blocker rule(s) and the page will load as expected.