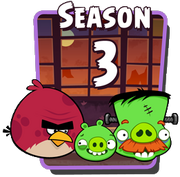 Season 2013 is the fourth package of Angry Birds Seasons. It contains Episode 14-15 and has 55 levels (exclude bonus levels). There are 55 normal levels, 3 stars levels, 1 Feather levels, and 7 Golden Eggs.
Abra-Ca-Bacon - World's Circus Day, 16th May 2013.
Arctic Eggspedition - Christmas, 29th November 2013 (Android) 30th November 2013 (iOS, OSX and Mac) 9th December 2013 (PC)
Episodes
Ad blocker interference detected!
Wikia is a free-to-use site that makes money from advertising. We have a modified experience for viewers using ad blockers

Wikia is not accessible if you've made further modifications. Remove the custom ad blocker rule(s) and the page will load as expected.