Not to be confused with Shaman Pig (Epic).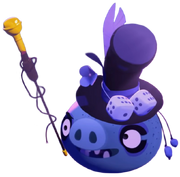 The Shaman Pig is a character of Angry Birds Stella Toons.
He has a stick that can turn birds or pigs into zombie pigs.
He is a Exclusive Pig in Angry Birds Stella Toons.
Appearances
Stella Toons
Trivia
There is a character in Angry Birds Epic also named Shaman Pig, However, both have different abilities.
The pig doesn't look like the Shaman Pig in Epic. He instead looks more of a minion pig.
Wierdly, This pig does not appear in Angry Birds Stella.
The Shaman Pig's stick looks like this:

A tiki torch, Unlit, With a golden microphone on top of it.
Ad blocker interference detected!
Wikia is a free-to-use site that makes money from advertising. We have a modified experience for viewers using ad blockers

Wikia is not accessible if you've made further modifications. Remove the custom ad blocker rule(s) and the page will load as expected.