South Beach - 2

Zone
South Beach
Type
Normal Battle
Enemies
1x
Main Prize
:3
Progression
Previous
Next
South Beach - 1
Pig Prison
South Beach - 2 is the second level of South Beach in Angry Birds Epic. It is a normal level. When this level is finished, the player may spin for 3 Flotsams.
Brute is introduced here. He deals heavy damage but needs to charge for 3 turns per attack.
Pigs
Before unlocking Chuck
After unlocking Chuck
Warning: In this wiki, supporting abilities are called secondary skills! Secondary skills are used to activate special helpful effects for the birds! Red's secondary skill is the shield, so use it to reduce damage!
Attack the pig every turn.
When the Brute is ready to use his attack, use Red's secondary skill to reduce the amount of health lost.
Use the Rage Chili immediately when it has been filled.
Walkthroughs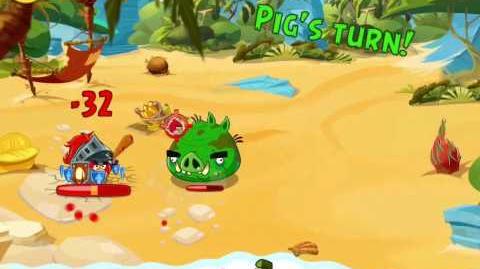 Ad blocker interference detected!
Wikia is a free-to-use site that makes money from advertising. We have a modified experience for viewers using ad blockers

Wikia is not accessible if you've made further modifications. Remove the custom ad blocker rule(s) and the page will load as expected.