South Hamerica 1-20 is the twentieth level of South Hamerica.
Strategy
Sling Bubbles between the 3rd and the 4th tower (counting from left to right). After he inflates, let the 3rd tower falls to the left and you can get 60k+ points. Then, sling Bomb to the left of the 1st tower (the leftmost tower) and next to the TNT box at the left of the 1st tower and then explodes immediately to explodes the 2 TNT boxes and let the 1st tower falls down to the right. Then sling Terence to the 2nd tower (the big one) to destroy some stone blocks. Next, sling Stella and put at much blocks as you can to her bubbles for bonus score. Finally, sling Bomb to the 4th tower to destroy the tower and the remaining Small Pig.
Walkthrough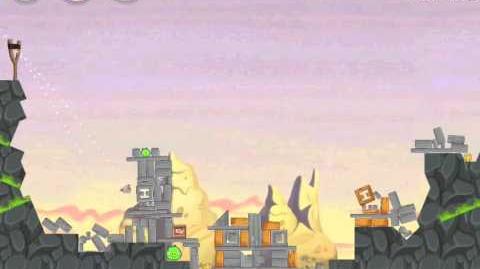 Ad blocker interference detected!
Wikia is a free-to-use site that makes money from advertising. We have a modified experience for viewers using ad blockers

Wikia is not accessible if you've made further modifications. Remove the custom ad blocker rule(s) and the page will load as expected.