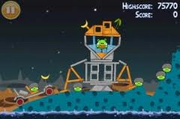 It's the 17 level of
Summer Pignic
. Unlike other levels, this one is in space.
3-Star Strategy
First, use the Black Bird to hit the triangular stone block under the Moustache Pig, if possibly lucky, the 3 Helmet Pigs at the right might die due to the two attached stone blocks at the right of the Moustache Pig. It will also kill the Helmet Pig on the car, and obviously the Moustache Pig. Then, use the White Bird to kill the last Helmet Pig.
Ad blocker interference detected!
Wikia is a free-to-use site that makes money from advertising. We have a modified experience for viewers using ad blockers

Wikia is not accessible if you've made further modifications. Remove the custom ad blocker rule(s) and the page will load as expected.