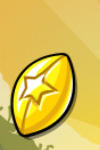 The
Super Bowl Golden Egg
is a special egg. It is Golden Eggs Level 22.
There are 4 black birds and a Rio logo formed out of blocks and 12 pigs hiding inside it.
How to get this egg:
Go to level 13-12.
Throw the first Yellow Bird anywhere.
Now zoom out. You'll see a step-like thing. Throw the White Bird back and at timing, lay an egg and you'll get the egg if you aim it right.
Trivia
The level references Rio.
The Golden Egg was also mentioned in the promotional trailer for Rio.
Ad blocker interference detected!
Wikia is a free-to-use site that makes money from advertising. We have a modified experience for viewers using ad blockers

Wikia is not accessible if you've made further modifications. Remove the custom ad blocker rule(s) and the page will load as expected.