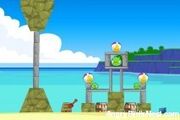 Level 1-7 of surf and turf contains 2 small piggies, 1 large pig 3
Black Birds
and a
Red Bird
.It also has 3 balls. 
3 star walkthrough
A simple strategy for Angry Birds Surf and Turf level 7 is to use the red bird to weaken the stone wall up high. Now fling a bomb bird through the weakened area and take out the structure and all the pigs.
Ad blocker interference detected!
Wikia is a free-to-use site that makes money from advertising. We have a modified experience for viewers using ad blockers

Wikia is not accessible if you've made further modifications. Remove the custom ad blocker rule(s) and the page will load as expected.