The Big Setup 9-14 is the fourteenth level in The Big Setup. There is a Golden Egg in this level. See this page for more informations about the Golden Egg.
Three Star Strategy
Throw the first Big Brother Bird at the pile of wood farthest left. It should smash through that, then go under to destroy the two pigs below the large structure. The large structure should then topple over. After that, use the second bird to destroy the remaining pig.
Trivia
Video Walkthroughs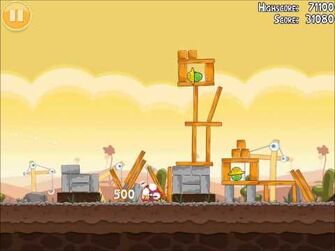 Ad blocker interference detected!
Wikia is a free-to-use site that makes money from advertising. We have a modified experience for viewers using ad blockers

Wikia is not accessible if you've made further modifications. Remove the custom ad blocker rule(s) and the page will load as expected.