Mine and Dine 16-1 is the first level of the second episode of Mine and Dine.
Strategy
Blast the Yellow bird through all of the stalactites in the middle of the level. To pass through a stalactite, you must pass through the top of it. Fire the first Red bird head-on into the left structure, causing it to topple onto the TNT below. Fire the next Red bird into the top part of the last tower. The pig inside should pop, and the bird should push the large pig off the ledge.
Video Walkthrough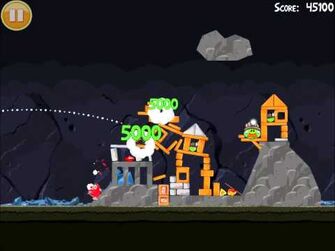 Ad blocker interference detected!
Wikia is a free-to-use site that makes money from advertising. We have a modified experience for viewers using ad blockers

Wikia is not accessible if you've made further modifications. Remove the custom ad blocker rule(s) and the page will load as expected.