Danger Above 6-10 (AKA The 3 Houses) is the tenth level of World 6 and Danger Above.
Strategy
Loft the White bird to bomb the roof of the stone structure along the left side. Very few points will accrue, but firing the Black bird into weakened area will destroy most of the structure. Use the next White bird to bomb between the ice and wooden structures, clearing all pigs within.
Video Walkthroughs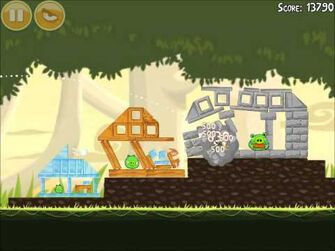 Ad blocker interference detected!
Wikia is a free-to-use site that makes money from advertising. We have a modified experience for viewers using ad blockers

Wikia is not accessible if you've made further modifications. Remove the custom ad blocker rule(s) and the page will load as expected.