Danger Above 8-14 is the 44th level in Danger Above and the 14th level of Theme 8.
Strategy
Launch the first Red bird through the balloon holding the TNT block and into the stone block behind it. The impact should cause a chain reaction of TNT, leading to the column on the far-right detonating. Loft the next Red bird through the first three balloons above the level, gaining significant points from the falling structures. Pop the remaining pigs with a Red bird if necessary.
Video Walkthroughs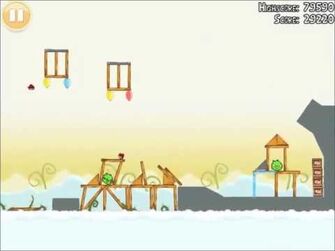 Ad blocker interference detected!
Wikia is a free-to-use site that makes money from advertising. We have a modified experience for viewers using ad blockers

Wikia is not accessible if you've made further modifications. Remove the custom ad blocker rule(s) and the page will load as expected.