THE FIRST THING I WANT EVERYONE TO KNOW IS A LOVE AND BELIEVE IN MY LORD AND SAVIOR JESUS CHRIST AND BELIEVE HE DIED FOR ALL OF OUR SINS                    
The Few Things About Myself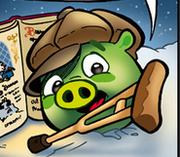 I am a teenager*
I am depressed so beware of my sadness
I am Christian (and very proud)*I have a pomeranian
I love any book that gives me the feels
My favorite type of music is Christian Rock
My favorite bands/singers are Skillet, Thousand Foot Krutch, 12 Stones, Casting Crowns, Kutless, Falling Up, and Three Days Grace
My favorite stores are Hot Topic and GameStop and Walmart for my....*looks around*
Angry Birds obsession
My Flock (couldn'tthinkofanythingbetter)
Add yourself if you feel you are part of my wingspace. 
List of Favorite Birds in Order (with reasons)
1. Chuck [I just can't resist loving the fast ones of the series/game the most. I love anything that runs fast, flies fast, if you can make sonic booms or at least cause someone to wonder why you're running that fast then you are my favorite]
2. Bomb [Heh, he's trying to help himself with his anger, he cooks, he 'splodes, he's awesome... especially in the game when I want to pop some porkers... nyehahahahahahHAHAHA. 
3. Terence [He's so awesome. He's just like me, just... there. I can't believe anyone would make fun of such an awesome guy like him... me and you both buddy.]
4. Jim, Jay, Jake or.. Jay, Jake, Jim... or Jay, Jim, Jake ect. [They're adorable, especially in the comics where they finish their sentences together and in the game they help a lot with glass. Team power!]
5. Red [He's alright, in the game he's PFFFFFFFFFFFFFFT USELESS... but in the Comics he comes across as an interesting character.] 
6. Bubbles [Hyper always attracted me... *looks at name* Yeah... anyways his power isn't very effective but I mean c'mon DAT FAYCE.]
7. Boomer/Al [In that one animation he gained my respect because of his bravery in the game I just..... *takes an empty coke can and crushes it with hands*]
8. Mighty [I've go to admit he's got a good character about him and he tells some cool stories. I never have really used Might Eagle in the game because I dont think I'll need it and I haven't so far. Soanywayswayoftopic... HE'S LIKE JUST A HEAD..] 
9. Stella [She shows a lot of spunk and is actually a good choice of attitude for Rovio's second (third?) girl character but... in the game I cry whenever I recieve her.. it's just... maybe it's just me but she can't pick up anything..]
10. Matilda [I haven't seen enough of her character so I'm going all game on this one. It depends on how you use her she sometimes is very usefull but sometimes is not... ]
Additional Shows/Games/Things I like
Invader Zim
My Little Pony: Friendship Is Magic
.... I think that's it... 
And One More Thing...
BAD PIGGIES THEME OR ANGRY BIRDS ARMY THEME?! PLEASE RESPOND BELOW!