So it's allmost the day that Angry Birds Facebook comes out :D
I was just curies what it should be like and I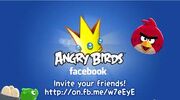 want to hear YOUR thaughts!
UPDATE: Power-up videos have been uploded :Dthumb|300px|right|Super seedsthumb|300px|right|Sling Scopethumb|300px|right|King Slingthumb|300px|right|BIRDQUAKE!!!
Ad blocker interference detected!
Wikia is a free-to-use site that makes money from advertising. We have a modified experience for viewers using ad blockers

Wikia is not accessible if you've made further modifications. Remove the custom ad blocker rule(s) and the page will load as expected.