Hey guys yesterday, Rovio added this photo via Facebook.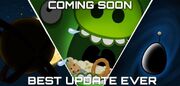 What do you guys think the best update ever is?My guess is Orange Bird's coming to Space and there's a new planet called Eggsterestrial (As seen on Twitter).I'm not sure about Fat Pig's Image but, it could be the next 10 or 20 levels of Utopia.What do you think the best update ever will be?
Ad blocker interference detected!
Wikia is a free-to-use site that makes money from advertising. We have a modified experience for viewers using ad blockers

Wikia is not accessible if you've made further modifications. Remove the custom ad blocker rule(s) and the page will load as expected.