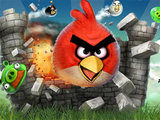 In August of last year, Rovio announced that it wanted to expand Angry Birds into new platforms such as movies, animated TV shows and comics.
Often these types of vague announcements are never heard from again. But Angry Birds seem to have a way of getting their way. According to Variety, the Finnish company recently hired producer David Maisel, the former Marvel Studios chairman, as an adviser on the proposed film.
Maisel, who has also produced films like Iron Man, Thor and Captain America: The First Avenger, expressed his enthusiasm at joining the project, stating "There has been so much chatter about an Angry Birds movie, but it's now real. People are interacting with these characters six inches from them each time they play, and that creates an emotional connection… It's a global thing that's something I've never seen before. It will be exciting to expand within Hollywood."
Rovio also revealed in January that a TV series featuring the popular characters was in development.
To work as a film, however, Angry Birds will of course need something it doesn't currently have- like a plot. Maybe we can come up with some plot suggestions for them????
Ad blocker interference detected!
Wikia is a free-to-use site that makes money from advertising. We have a modified experience for viewers using ad blockers

Wikia is not accessible if you've made further modifications. Remove the custom ad blocker rule(s) and the page will load as expected.