Well, this is my main AB OC. 
Idk if you like him, but I sure do. :P
His story:
He was a normal minion, but when he was used as a test objekt for Professor Pig, he went extremly smart and Blue. Yes, blue. He decided not to fight with the birds or the pigs, he just goes his own way. He spends time sometimes with the flock or the pigs, but when it comes to fight, he escapes, because he's a very peaceful pig.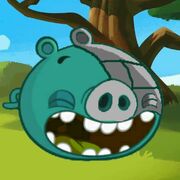 Ad blocker interference detected!
Wikia is a free-to-use site that makes money from advertising. We have a modified experience for viewers using ad blockers

Wikia is not accessible if you've made further modifications. Remove the custom ad blocker rule(s) and the page will load as expected.