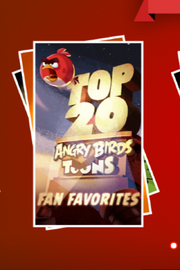 These were the top 20 angry birds toons episodes voted by fans. This list started on December 31, 2014 and ended on March 7, 2015. All of these episodes are from the second half of season 1 and season 2.
Number of episodes per season on the list:
Episodes that didn't make the top 20:
Season 1:
Season 2:
Ad blocker interference detected!
Wikia is a free-to-use site that makes money from advertising. We have a modified experience for viewers using ad blockers

Wikia is not accessible if you've made further modifications. Remove the custom ad blocker rule(s) and the page will load as expected.