As you guys may know, Rovio April Fooled us with this pic featuring an Angry Birds Space bird called the "Skunk Bird.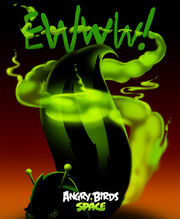 I was fooled and actually wanted it to be a real bird. So I'm starting a pediton to convince Rovio to actually put the Skunk Bird in the game. Comment below if you agree!
Charlie360 23:01, April 2, 2012 (UTC)
Ad blocker interference detected!
Wikia is a free-to-use site that makes money from advertising. We have a modified experience for viewers using ad blockers

Wikia is not accessible if you've made further modifications. Remove the custom ad blocker rule(s) and the page will load as expected.