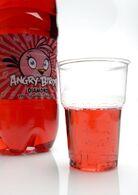 A Finnish brewery- and soft drink industry Company Olvi has released new Angry Birds soft drinks series. The series includes eight different drinks with different flavours, five of the drinks are stored in cans, two of the drinks are stored in plastic bottles, and one in both. The first two of them released in 2012 February, continuing with third in March and fourth in Summer. The fifth can is released by Estonian brewery A. Le Coq. In March 2013, Olvi released the sixth can. The 2 big plastic bottles released in this year's January. The first is named
Angry Birds Tropic
with tropic fruit flavours and the
Red Bird
as its mascot. Second is named
Angry Birds Paradise
with flavors of Pineapple and mandarin, and the
Yellow Bird
as its mascot. The third is named
Angry Birds Lagoon
with flavors of Apple and pear, and the
Pig
as its mascot. The exclusive fourth can is named
Angry Birds Comet
with flavors of Cola and orange, with the
Black Bird
from Angry Birds Space as its mascot, and this drink is exclusive to Angry Birds Space. The fifth can is Special Version of
Angry Birds Tropic
, named
Angry Birds Tropic Cola
, it is same as Tropic but is also flavored with Cola, this drink is also available in a plastic bottle. Sixth is named
Angry Birds Amazon
with lemon flavor, and the 
Green Bird
 as its mascot. The two big plastic bottles were released later, and the bottle version of
Angry BirdsTropic Cola 
also. The first of three plastic bottles is pink, and it is named
Angry Birds Diamond
with raspberry flavor, and the
Pink Bird
, stella as its mascot. The second bottle is orange colored, named
Angry Birds Sunrise
, with flavor of mandarin and the
Orange Bird
as its mascot. The third is bottle version of
Angry Birds Tropic Cola. 
See the pictures below.
Gallery
Cans
Plastic Bottles
All rights are owned by Rovio ©™ and Olvi ©™.
Believe or not, but I am a Finnish person & feel free to Comment !
I have tasted them all!
Ad blocker interference detected!
Wikia is a free-to-use site that makes money from advertising. We have a modified experience for viewers using ad blockers

Wikia is not accessible if you've made further modifications. Remove the custom ad blocker rule(s) and the page will load as expected.