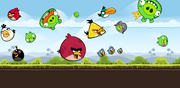 Thank you, Angry Birds Wikia. you have Helped me Build myself enough courage to make a new Wikia. i hope i can get some of you out there in this wikia, i might NOT but I might. i will look for editors and Contibutors, all Admins here can be Admins there. here is a sneak peek of the new wikia if created.
Ad blocker interference detected!
Wikia is a free-to-use site that makes money from advertising. We have a modified experience for viewers using ad blockers

Wikia is not accessible if you've made further modifications. Remove the custom ad blocker rule(s) and the page will load as expected.