Ad blocker interference detected!
Wikia is a free-to-use site that makes money from advertising. We have a modified experience for viewers using ad blockers

Wikia is not accessible if you've made further modifications. Remove the custom ad blocker rule(s) and the page will load as expected.
I recently played
YOTD
(my abbreviation For Year Of The Dragon.) And saw an eye icon, this confused me, i had NOT payed for the mighty eagle. so i tapped the icon and threw the "koi" To the nearest structure and saw a dragon fly onto my screen, It was Then My Confusion turned to glee! You DIDN'T Have to pay for mighty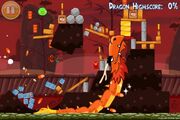 To get access to the dragon! I also noticed my so called " King Pigram" Was a Different Pig, An Emporer To china i presume? But anyway, i noticed The dragon crawling through the letters, and in the credits with another "koi" But it was orange. So let me tell you fellow members of ABW, ( Angry Birds Wiki.) YOTD Is a mix of
Birds
,
pigs
, AND
Dragons
.