I can't sleep this morning, I had glared my eyes on the phone's screen. The purple royal bird is on the hunt of the golden egg in the past. The color would be amethyst on sight, with the lighter shade of purple on the belly. The eye eyelashes are long, queen and majestic that commands the pigs and the ruler of the piggy island. No more.
King Pig was on the departure from the Piggy Island to Golden Island. On sight by the minions, they finally gave the King Pig a huge welcome. In the episode, You Asked for It, Stella and her friends watched the golden egg flinging into the sea. Gale loses her obsessing power on the golden egg, as well as the minions in the change of Angry Birds POP! from v2.22 to v2.23.
The crown on Gale remained and she will again return to her friends. Most of the Angry Birds POP! Stella elements was removed, being Red takes the Drop the Pigs levels and Defeat King Pig, Chuck takes the Piggy in the Middle and Dahlia was removed, the UI menus was given a new look, the stars sounds in the post-level screen was removed. (Except the Facebook version)
I am not sure the reason why sometimes Rovio tends to remove some elements. Curiosity.
That purple bird left the island and made a return before her departure. Some of the sounds are recycled, when you lose and when you win.
For the aiming sounds and the gain streak, is completely new.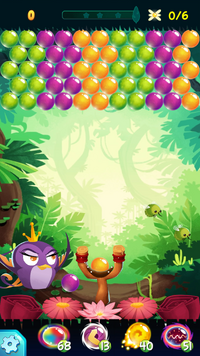 Gale has now switched sides.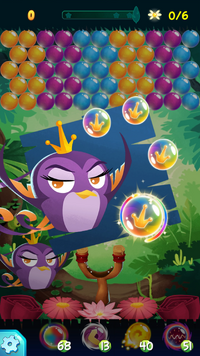 Royal Pop!
Crown on the streak meter!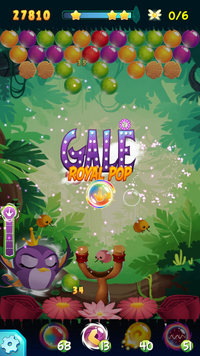 Full power gain from successful popping streaks!
The funny part on gale when she was on full streak, her eyes closed and she is shaking. But not the way I excepted.
The Royal Pop in action?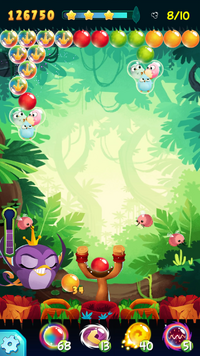 What it does better than Willow: It can be hit by any color. Sorry Willow fans, no offence, but the good thing about Willow is well balanced, not to help you beat the level too easily but helping to just pass a level.
GoldenGale
Ad blocker interference detected!
Wikia is a free-to-use site that makes money from advertising. We have a modified experience for viewers using ad blockers

Wikia is not accessible if you've made further modifications. Remove the custom ad blocker rule(s) and the page will load as expected.