Hi fellow Angry Birds fans!
The Hatrchings made its way to Angry Birds POP! It was on a limited time before, then it makes it appearance again! Before was the Movie Mania prize award, (basically given one reward for every movie treats, now you have to fulfil tasks to get part of the movie posters and a reward booster! That was very sweet!
Now, I am deeply fixing things up on the Angry Birds POP! page, inserting new to replace the old ones, but what I had left was the table. I had added one row, and added the area name with TBA on it. Why? Because I was super slow in my progression and now I am catching up a little faster now! Just finished with Midnight Bayou. Replaced Movie Mania with Hamming It Up! I am unsure for St. Patricks becuase I did not catch the area name. I hope someone will add a row and corrected the area name. St. Patrick has two separate area names. Worse part, versions does not seems to properly order, so I will dare to take my courage and fix it by switching to source code, visual editor classic and new does not seem to work. Oh no! It deletes some lines! So? Not to panic, I will undo the revision and tried to insert new and follow the same format as Infobox in Willow's page. It now worked! The order was proper in the way it was!
Referencing! Do it need to reference the screenshot evidence of Willow's hat? Still thinking...
I had the Willow e-book purchased and I found to be little funny at some parts for her diary. Basically it was about a heart warming friendship as it says! You should read it! I will find more information and put the pieces in the puzzle into Willow's page. Will do the same for Poppy. Just keep playing fans! I have not bought Stella just yet.
Signing off,
Fishfins (aka GoldenGale)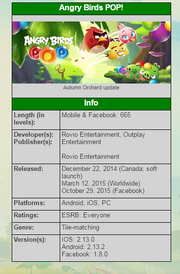 Ad blocker interference detected!
Wikia is a free-to-use site that makes money from advertising. We have a modified experience for viewers using ad blockers

Wikia is not accessible if you've made further modifications. Remove the custom ad blocker rule(s) and the page will load as expected.