Hi fellow AB Bubble POPers!
Matilda was here once again, questions were answered by Rovio was supposed to be kept secret. It was released on IOS and Android today. She had grabbed her passport and her flight towards there. She got a comfortable place to get started on! If you are sick, having a high fever, flu, anger management issues, stress, look no further. Matilda will be at your service! (Just don't make her mad and give her some chocolates and extras kept for you munching on later) Why am I so or super obsessed with updates? Ask me, because what you'll get is, I am very keen for Rovio's POPping future.
Let's dive into it!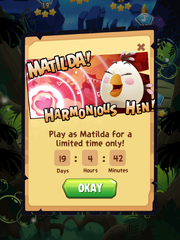 Matilda! The Harmonious Hen! As long as it is related to peace right? Marvelous Matilda! She is just a pretty bird, or beautiful! Just something... Anyways, 500+ levels? Holy hen! It has tons of levels, slowly catching up! It was given 19 days, 4 hours to be here in Golden Island (as of my install). More than enough! (And enough to catch some golden feathers for those of you who haven't got yours)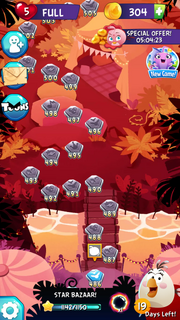 Carry on! What's good about Matilda? She is just a pretty mother bird! She is my next Valentine bird if I am Bomb, Matilda will be my valentine that is. How swwwwish! Ok, okay! Let's....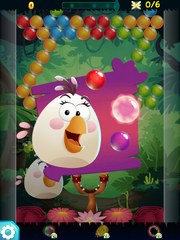 Start popping! She aims like a charm and you got the magically heavenly atmospehere in you. You are the Matilda or you directing Matilda to start flinging bubbles into the playing field.
Her Flock Pop is the same as Love Pop, except on Poppy levels, it increases the timer. [The last time I had used Luca on Level 59 (Beach level) was HUMONGOUSLY impossible to finish this level. Easy, busy as A-B-C to get feathers and you will lose that level. Finally, with Matilda, it is now possible. Fair and square.]
Rovio: Fair enough?

Gain a successful popping streak chain of x6, and you'll be greeted with the Matilda's Flock Pop!
Now I am getting used to this powerup, let's complete the Valentine's levels!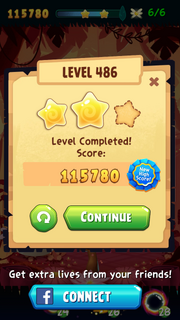 That smoke cloud is always pain whether how hard you would guess, so, the hint might be the bubble next to it.
Level 487?.....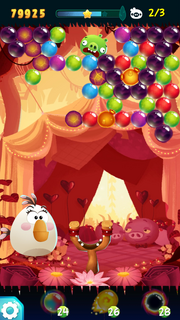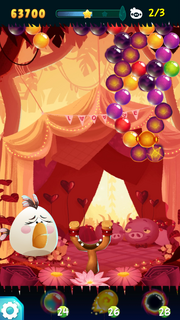 Failed? Really? Because of the lava? How, how, am I be that silly to hit one? I know, on the first time hit it creates a row of ash. Drop the lava otherwise you'll smash those and the bees started buzzing away. Did you notice that glitch? (Look at top of Matilda) I would not bother to report it.
Extras: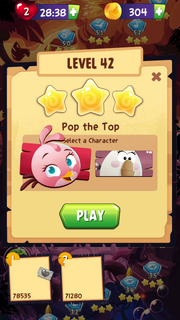 I had a challenger here. This player got a score of 78535 on Level 42? That is insane! How would you get it? Well, no matter how hard you tried with both Stella and Matilda, and the only maximum peak score I got was only 71280? How would I score even at least 80000? "Drop more bubbles, don't smash wood, don't lose streak, etc."
Whatever.
Anyways, I have improved my score on Forest Heaven, beating my challenger's score.
Update: New High Score!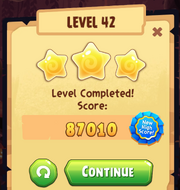 Alright, hope to see more soon!
FFins
Ad blocker interference detected!
Wikia is a free-to-use site that makes money from advertising. We have a modified experience for viewers using ad blockers

Wikia is not accessible if you've made further modifications. Remove the custom ad blocker rule(s) and the page will load as expected.