Angry Birds POP! update has arrived. 20 Levels? New area? No new Time-Limited birds? Why? Because...Look at the Rio Carnival Calendar. It falls on the Feburary 5th! To mark that occasion! Rovio has topped the cream icing cake with the area with the circus! Not just circus and some merry-go round to go dizzy with! No birds to be introduced during the Rio Carnival! So what are you wait for? Grab that AB POPping into a new level! New challenges waits! Next update, 3 weeks later, hoping that it will have new birdie. What will it be? This carnival update is going the time limited birds a break!
Update: The background noise sound effect fits the scene of the merry-go round, but it seems to be a bit too loud for me. I found it a little distracting while trying to hear the level musicI wanted to hear including the chilling Willow's music. Makes my brain goes in confusion. Should I file this to Rovio to tone the sound down? They might not take my suggestion. I have no choice but to endure it.
Actually it is quite fun! The merry-go round piggies are spinning round. Not really seeing it as moving on the background but seeing myself in it! The level is harder than I expected. I am hungry for boosts and the Gale level in the lagoon was way too tough. I thought I am going to be a sore loser after all. With my courage and my preservation I can triumph. With I did clear the bottom and used Stella power pop to clear the toppest and drop more bubbles!
Went pass to now level 477, Piggy in the Middle and something fazed me. When I lose a level, the free boost does not work at times. I am hungry for it everytime I needed help otherwise I will be stuck in this level. Unless re-installed. Lives reset. It is like cheating it and breaking my rest times. That was on Android, iOS, checking.
Well, Willow was liked by some fans. I am fine and okay with that. However, I wanted to share this pic that I screenshot in the gameplay, I do want to highlight this expression created by Willow herself: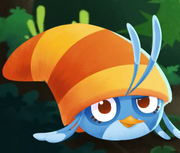 Well, I got to go now!
FFins
Ad blocker interference detected!
Wikia is a free-to-use site that makes money from advertising. We have a modified experience for viewers using ad blockers

Wikia is not accessible if you've made further modifications. Remove the custom ad blocker rule(s) and the page will load as expected.