Here they are! My made up Angry Birds Space Characters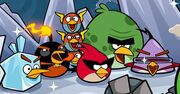 The Iron Bird (White Bird)
The Iron Bird is practically made of iron. He is really White Bird, when inside the wormhole. He seems to resemble Iron Man. While on the slingshot, he has an egg attached to a string he tied to himself. When the secreen is tapped, he would spin around with the egg bomb spinning around as well. The egg blows up on the first thing it comes to contact with.

Captain Boomerang
Captain Boomerang is the king of the arts of boomerang. He resembles Captain America when entering the wormhole. He has the same ability as Boomerang Bird, except a little more damage is done.
Bat Bird (Orange Bird)
The Bat Bird is a mysterious Bird who seems to be fond of bats. He seems to stands out of the crowd as instead of resembling a Marvel superhero, he resembles Batman, a DC superhero. His ability is the same as classic Orange Bird, his identity.
So, you like?
Tell me what you think of my birds! I would appreciate feedback.
Ad blocker interference detected!
Wikia is a free-to-use site that makes money from advertising. We have a modified experience for viewers using ad blockers

Wikia is not accessible if you've made further modifications. Remove the custom ad blocker rule(s) and the page will load as expected.