Hey Guys, just wanted to ask you how the Main Page will possibly look like. Below is what I have compiled it to look like. If you cannot see it properly,
this page
might help. Please comment.
Also, I'm still working on August's Featured Poll, so bear with me.
Main Page
Welcome the the Angry Birds Wiki
The Wiki about the "killer app" Angry Birds that anyone can edit which currently has 3,349 pages in total.
No Fiction!
Please do not post fan-fiction of any sort. It will result in a warning, and, if done multiple times, a block will result for a certain period of time. For any fan-made material of any sort, please post it here instead of this wiki.If there is no Admin to delete or block, the post will be Temporarily deleted.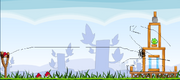 Theme 1-1, nicknamed Pig's House, is the first level of Angry Birds The Original and Angry Birds Chrome.
The player has 3 birds to deal with the small pig. These Birds are all Red, since the player just started the game.
The player is allowed to aim at the pig directly, but for more points the bird should ram into the base of the house(as shown in the image).
This will bust most of the house with the collapse, the bird, and the stone block.
Featured Poll
Which is your favorite episode of "Angry Birds"?
Featured Image
News
Create blog post

Blogs

OK, this is supposed to be made a very long time ago but as I'm too busy with homework and the PvZ …

Read more >

I recently thought up of a weekly thing the entire wiki could get in on.  Every Saturday, we could …

Read more >

See more >
Ad blocker interference detected!
Wikia is a free-to-use site that makes money from advertising. We have a modified experience for viewers using ad blockers

Wikia is not accessible if you've made further modifications. Remove the custom ad blocker rule(s) and the page will load as expected.