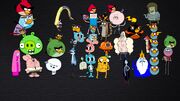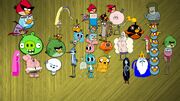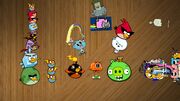 Hey guys! 56 here! I have made new pictures of my favorite things;
ALL TOGETHER!!!!!!!!!!!!!!!!!!!!!!!!!!!!!!!!!!
The pictures include things like: Regular Show, The Amazing World of Gumball, and Adventure Time. And of course, I can't forget,
Angry Birds
!!!! I made them in some kind photo collage. I don't remember the name. Anyways, look at these pictures. If you want, you can set them as you'r desktop!! See you later!!!
Ad blocker interference detected!
Wikia is a free-to-use site that makes money from advertising. We have a modified experience for viewers using ad blockers

Wikia is not accessible if you've made further modifications. Remove the custom ad blocker rule(s) and the page will load as expected.