The Mine and Dine episode is coming to a close. Yesterday it was updated! Check it out. The Golden egg has also been updated! The Egg is in 17-12. Again, like Theme 1-8, it's hidden in a treasure chest. Unlike the other eggs in Mine and Dine, you cannot get this egg with White Birds. Only Yellows. Yet again you will meet the King Pig, though you also met him in World 15 and 16.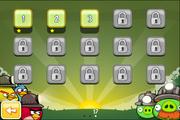 Angry Birds Nest Version
(Added by Poptropica411) A surprise update to Angry Birds has just landed for iOS devices, so I'm sure other devices will be coming online too. Thanks to all the users here who let us know about this. This update comes on the heels of a update which saw the Mighty Eagle finally land in Angry Birds Seasons. The v1.6.3 includes:
15 new levels — some of which are very tough — in the final chapter of Mine and Dine (3 star walkthroughs) There are be two new Golden Eggs (spoilers in the comemnts below), one hidden, and one for 3 starring all levels of Mine and Dine. Our Complete Golden Egg walkthrough has been updated, so if you need help check it out (the 25th and 26th eggs are at the bottom) Looks like the bug preventing users from receiving the Feather Picker and Feather Collector achievements has been fixed, but reports say it can take time to register. Below are some helpful links:
The Angry Birds and Golden Eggs leaderboards has been updated and is ready for your scores. List of all Angry Birds achievements available via Game Center. Note for all devices, if you compete on the leaderboards it will show your progress towards obtaining the Score Addict achievements (or if you haven't received have far you have to go)! Mine and Dine 3 star walkthroughs for chapter 17 are up and ready for you!
Full credit goes to Angry Birds Nest at www.angrybirdsnest.com
Ad blocker interference detected!
Wikia is a free-to-use site that makes money from advertising. We have a modified experience for viewers using ad blockers

Wikia is not accessible if you've made further modifications. Remove the custom ad blocker rule(s) and the page will load as expected.