Utopia 4-22 (Angry Birds Space)
Episode
Level Number
92
Birds Sequence
No. of Pigs
: x2 : x3
3-star Score
: 82,000 points
Previous
Next
Utopia 4-21
Utopia 4-23
Utopia 4-22 is the tweny-second level in Utopia.
Difficulty
Medium.
Strategy
Fire the first bomb bird straight ahead trying to clip the middle icy asteroid. This should take out the topmost fat pig. Now fire the next bomb bird low into the connected group of asteroids to take out the southern most pig. If necessary, mop things up with the last bomb bird.
Walkthrough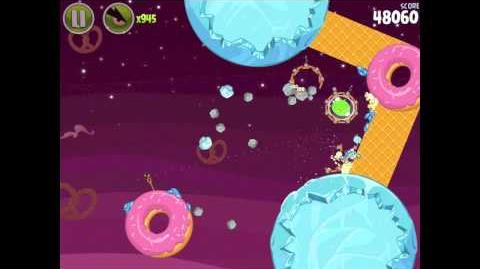 Angry Birds Space
Levels
Eggsteroids
Episode Key : Blue = Pig Bang; Cyan = Cold Cuts and Fry Me to the Moon; Pink = Utopia; Salmon = Red Planet; Lightgreen = Pig Dipper; Purple = Cosmic Crystals; RoyalBlue = Beak Impact