Utopia 4-24 (Angry Birds Space)
Talk

0
Utopia 4-24 (Angry Birds Space)
Episode
Level Number
94
Birds Sequence
No.of Pigs
x2 x1
x2 x1
3-star Score
: 136,000 points
Previous
Next
Utopia 4-23
Utopia 4-25
Utopia 4-24 is the 24th level in Utopia.
Difficulty
If you detonate the TNT, it's not much problem.
Strategy
Release the release the boulder with the lazer bird. Be sure to detonate the TNT below, and grabbing a lollipop won't hurt either. Then freeze the popcorn kernels to render the remaining structure unstable.
Eggsteroid
It's above the fortress. Use Lazer Bird to get.
Walkthrough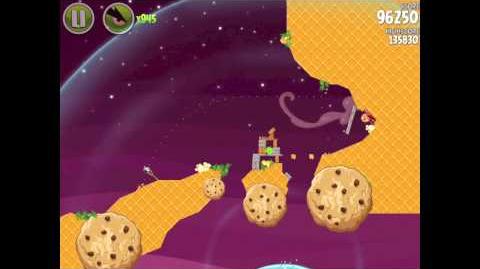 Angry Birds Space
Levels
Eggsteroids
Episode Key : Blue = Pig Bang; Cyan = Cold Cuts and Fry Me to the Moon; Pink = Utopia; Salmon = Red Planet; Lightgreen = Pig Dipper; Purple = Cosmic Crystals; RoyalBlue = Beak Impact