Utopia 4-2 (Angry Birds Space)
Episode
Level Number
72
Birds Sequence
No. of Pigs
: x6
3-star Score
: 50,000 points
Previous
Next
Utopia 4-1
Utopia 4-3
Utopia 4-2 is the second level in Utopia.
Difficulty
Kill all pigs in first second shot is hard. Getting 3 stars in this level is very hard.
Strategy
One stratgy for Utopia 4-2 is aim the Black bird between the left-point and the asteriod just below it. Detonate the bird in the the bird in the middle of the pile and hope to pop as piggies in the pockets as possible.The way to earn three stars is to use as few birds as possible.
Trivia
This level resembles pool game (or bowling, for that matter).
Walkthrough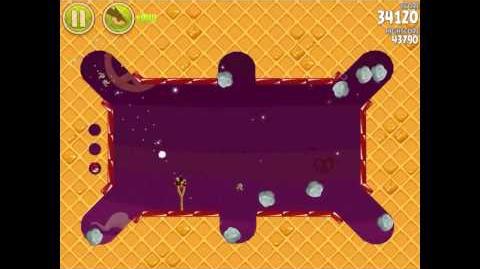 Angry Birds Space
Levels
Eggsteroids
Episode Key : Blue = Pig Bang; Cyan = Cold Cuts and Fry Me to the Moon; Pink = Utopia; Salmon = Red Planet; Lightgreen = Pig Dipper; Purple = Cosmic Crystals; RoyalBlue = Beak Impact