Utopia 4-30 (Angry Birds Space)
Episode
Level Number
100
Birds Sequence
Boss(es)
:
3-star Score
: 48,000 points
Previous
Next
Utopia 4-29
Red Planet 5-1
Utopia 4-30 is the 30th level of Utopia and the 100th level of Angry Birds Space overall.
Difficulty
This level is very difficult to pass. You have to feed 6 asteroids or burnt popcorn to defeat the Fat Pig. And if you want to get 3 stars, you should use 3 birds or less.
Strategy
Timing is key, as you want the asteroids near his mouth as it circles around. While going for the asteroids you'll likely hit the popcorn makers, which will cause them to momentarily malfunction, yielding a burnt piece of popcorn.[1]
Trivia
You can also see this pig from starting cutscene of Utopia.
The gold eggsteroid that appears after the Fat Pig pops is not a Golden Eggsteroid in the traditional sense, as it's not obtainable.
WARNING:If the Blue Birds stick in the Pig's mouth it is going to lick the bird for ever.
Walkthrough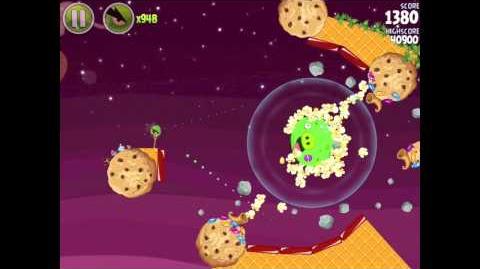 References
Angry Birds Space
Levels
Eggsteroids
Episode Key : Blue = Pig Bang; Cyan = Cold Cuts and Fry Me to the Moon; Pink = Utopia; Salmon = Red Planet; Lightgreen = Pig Dipper; Purple = Cosmic Crystals; RoyalBlue = Beak Impact
Ad blocker interference detected!
Wikia is a free-to-use site that makes money from advertising. We have a modified experience for viewers using ad blockers

Wikia is not accessible if you've made further modifications. Remove the custom ad blocker rule(s) and the page will load as expected.