Utopia 4-7 (Angry Birds Space)
Episode
Level Number
77
Birds Sequence
No. of Pigs
: x4 : x2
3-star Score
: 100,000 points
Previous
Next
Utopia 4-6
Utopia 4-8
Utopia 4-7 is the seventh level of Utopia.
Difficulty
It's very hard to get the perfect shot to kill all pigs, but to shots can still 3 stars.
Strategy
For Utopia 4-7, send the first Blue bird over the northern tower and into the big red bumper on the far side of the planet. Split late and, with a bit of luck, you can detonate a couple of the TNT scattered around the planet. If any structures still remain, use another Blue bird to blast its TNT as well.[1]
Walkthrough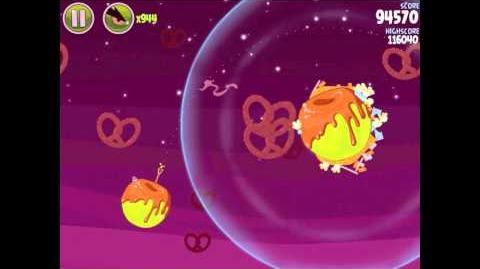 References
Angry Birds Space
Levels
Eggsteroids
Episode Key : Blue = Pig Bang; Cyan = Cold Cuts and Fry Me to the Moon; Pink = Utopia; Salmon = Red Planet; Lightgreen = Pig Dipper; Purple = Cosmic Crystals; RoyalBlue = Beak Impact